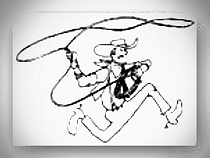 Rock music has always been a tough sled when the barometer of radio would shift from what people wanted to what record companies thought they wanted. When rock and roll's pioneers were shunted aside for teen idols, then the teen dance crazes, then folk music, rock didn't get a foothold on radio again until an old fashioned guitar band from England whose music was their version of Eddie Cochran, Chuck Berry, Little Richard and Buddy Holly finally broke through and started what is called The Rock Era. Where did they come from? Seedy clubs, a growing fan base, the belief of a department store record section manager, and a label whose stock in trade was classical music, trad jazz, and comedy records.
There have been other resurgences from the rock segment of popular music since then. The infusion of new ideas and a re-imagining of what had gone before in the explosions of punk, new wave, heavy metal, and hard rock in the late 70's/early 80's. Then there was the mid 90's 'grunge' movement that finally caught radio's attention, fathered by Neil Young and morphing into 'Alternative' music, and contained the same message that Elvis, The Beatles, and the Punk Movement had brought to their generations' youth: "You can do this too. You can make your own music. You…can rock."
Elvis convinced me to eschew the accordion for a guitar. The Beatles helped me decide to form my own band. The new wave and punk movement allowed me to play to a new generation of people who wanted new music, more choices, and original ideas.
At first, the purveyors of these movements grew their fan base slowly in small clubs. Their first releases were on small Indie labels, but that soon changed. The Major Labels (and there were many of them back then) were listening to their field reps, who were out in the clubs and listening to the local radio stations. Radio was the first to see what was happening and began to play the local music wherever their station was. In Toronto, for example, all 3 fm stations were almost immediately receptive to the new local artists when hard rock, punk, and new wave first hit the street. Seattle Washington and Portland Oregon broke the grunge scene in the Northwest before it spread across the globe. The San Francisco Sound broke out of…San Francisco. Even Elvis started on a small, local label and was broken locally by a DJ in Memphis before, well…becoming Elvis the Pelvis.
And what was the one thing that made these momentous shifts in music possible?
Radio.
Radio was the barometer. Radio was the leader. Radio…was the fucking KING! Even when rock fell out of fashion, radio still managed to find and play at least some of what was out there…and there has always been great rock out there somewhere.
How much great music have we been denied since the corporate takeover of radio and records? Since jocks were stripped of their musical input? When running a board, formatics, and computer skills became more important than the love of music, the knowledge of the local scene, the listeners? How many potential Lennon's and Dylan's and Davies' and Mercury's have been cut off at the knees because they didn't fit? How many Glimmer Twins, Young's, and Petty's were crushed before they had a chance to become a force, an artist, a contributor to the songbooks of their generation?
I try not to think about it.
Radio, once the gatekeeper of taste, source of all new music, and the trusted voice of musical artists, has become a merchant of sweet candy and salty snacks with limited shelf space. Like the vast majority of the public, they confuse popularity with success, image with talent, production with ability, and a hit as fame. Created
by radio and the major labels to attract casual listeners, the current content we are bombarded with is made up of disposable shiny baubles, easily replaced, easily manipulated, and easily controlled. For the most part radio and records, once a vast food court of unlimited choices, has become a single McDonald's in the middle of nowhere. I almost feel sorry for them.
Oh, they'll show you the sales figures and tell you about how well everything is going and that they still rule the world and don't you wish you could be them, but talk to anyone who loves music and you can almost see the venom dripping from their teeth.
Radio has lost its position as the leader when it comes to what's happening, baby! Bands with little or no radio airplay, without a major label, tour regularly all over the world, have rabid fans everywhere, and pack clubs, soft-seaters, and medium
size halls. Artists with massive amounts of airplay and major support (with some very successful exceptions) are selling far less CD's than is expected of them, constantly canceling dates, and playing to half sold houses.
People in radio and at the majors will tell you they are making more money than ever before. After decimating their ranks, they should be getting bigger paychecks or at least the same amount they used to make before all the lay-offs, firings, and downsizing. They should at least admit that they are no longer in the business of music. They are in the business of keeping casual listeners entertained, generating money for their stock holders, and maintaining the status quo…and there is nothing wrong with that, in fact, I wish them well and continued success.
Those of us who love music know where it is, and that is where radio and the majors will find us. Hopefully, someday, they will join us again.
Where to find new/rock music…
I don't really have to tell you, do I? Most of you already know.
Your local clubs: Best place to hear new music and tons of great rock. Mostly in downtown areas with tribute and cover bands owning the suburbs. Catch bands that are ready, bands that are almost ready, and bands with potential. Cheap drinks and rarely a cover. Support your local music scene…and bring your friends.
The Intertoobz: You Tube, Facebook, MySpace, Reverb Nation, you will always find something worthy just by looking around on these sites.
Indie and Used Record Shops: Amoeba stores on the Left Coast, Sonic Boom and Soundscape in Toronto. Lots of others, everywhere.
Talk to the local musicians you know: Unlike the wars that break out between urban acts and divas, the rock scene is a community of people who support each others music. One will lead to another, and you will be rewarded for your efforts. Follow the buzz.
SXSW and NXNE: Make the trip. SXSW is in Austin and NXNE is in Toronto. These are new music overloads and you will hear awesomeness everywhere. Toronto is also home to The Indie Awards, CMW Showcases, and Indie Week, all fine showcases for new and interesting talent from all over the world.
Bands to keep your eye (and ears) on: In no particular order: Amos the Transparent, Die Mannequin, A Primitive Evolution, Brooklyn Fletcher, The Waxmen, Kitchen Music, The Respectables, Darlings of Chelsea, Cut Throat Kids, Pull Start Rockets, Voodoo Bunny, Mad June, and Helldorado…and this is just a personal short list. Who are you following? Who would you like to recommend?
My Top Rock Picks for 2011…
Rival Sons: These guys prove beyond a shadow of a doubt that rock still has another chapter to be written. The power and sonic beauty of their music channels bits and pieces of The Who and Zeppelin, and even The Doors at their peaks, but this is original music through and through. The playing, the songs, the incredible voice of Jay Buchanan, make this band one of the most compelling I have seen and heard in years. Their first album is in the can, is an absolute killer, and due soon. Their 3 shows at Cherry Cola's over the weekend during Indie Week, and the deafening response from the audience was undeniable proof to me that this is the new 'classic' rock. Turn This Up!
Eagles of Death Metal: I have mentioned this band more than once in these columns, and with their constant touring and songwriting skills, I'm hoping they break out soon. Tons of fun live, and a wicked approach to the rock band legacy that preceded them. Mates and fellow jammers and players with Queens of the Stone Age and Them Crooked Vultures (among others), EODM have several CD's and more on the way. Best rock party band on the boards right now.
Blackheath Hounds: I could see a tour next year with the Hounds opening for Rival Sons and building a fan base the same way hard working bands like the Hounds have done since the early days of rock. Like the other artists on this list, they mean every note and every word. Rock as a rule, has always had 'real' at its core, and this band is no exception. Great live and you can hear some tracks from their first CD here.
Research Turtles: The best description I have been able to come up with for these guys is the Everly Brothers meet the Ramones, and even that doesn't begin to cover it. If I were 20 years old this is the band I would want to be in. Like the Trews and Fear Zero, RT write great, hooky, pop songs and back them with the power of a great rock band. Personally, this is the kind of music I walk away humming and wanting to hear again. The Lake Charles Louisiana natives are heading back to the studio soon to record their second CD. I for one can hardly wait. As with all these groups, not only do I like what they are doing now, but I am really looking forward to hearing what lies ahead. I want these bands to have careers. You can listen to them or download their first CD here.
Mike Robins: This young man has been putting in his 10,000 hours for more than a decade. Part of someone else's project right now (Hope), he is touring and recording out of L.A. I have heard his latest recordings and not only is his songwriting top shelf, his singing and playing say he is ready to make a move. Watch closely. Get a taste here, and here. That's Mike's equally talented brother, Brandon, on drums.
Jumple: They have to be seen to be believed. This band looks like they escaped from a stage play based on Horton Hears a Who, sound like an Uber-electric version of The National Orchestra of the Ukraine, and are entertaining to the point of owning every room I have ever seen them play.  They are just as apt to break into a song in a kitchen or an alley (as they did during Indie Week) as they are on any stage, big or small, electric or acoustic. You have never heard or seen anything like them. They could play Lollapalooza one night and open a Vegas show room the next. Musically, they channel B.B Gabor's early singles (though they have never heard of him) and a Bar Mitzvah band on mescaline. A small example can be found here. Start with the track called "So Good", then have a look at them here. No CD available yet.
Courage My Love: I look at this group as the one that could make an entire generation pick rock as a musical choice instead of getting on line for American Idol try outs or being discovered on You Tube in order to get the attention of the latest radio and major label pop stars. These 16 year old twins and their 18 year old bass player are hard core rockers through and through. Imagine the Olsen Twins with talent, looks, and the desire to hit the road and pay their dues, then add McLovin from "Superbad" whose desire to rock out is as powerful as theirs.
This then is Courage My Love. Mercedes plays guitar (and I mean plays guitar), Phoenix plays the cello when not behind the drum kit kicking ass, and David plays the bass, pogos, spins, and sings with the twins. I have seen them live 3 times and have been knocked out not only by their writing and performance, but their confidence, control of the room, and the adoration they instill in their audience…and this Kitchener/Waterloo Ontario trio are just beginning what could be a long and successful career. Again I have
to ask…what could this band grow into if nurtured by radio, a caring label, and the 10,000 hours they are already putting in? They have a great support team, parents who believe in them, and the talent to grow into a major act and an inspiration to young people everywhere to put down the iPod and Guitar Hero, and pick up a real guitar, bass. or a pair of drumsticks. Thanks to people like DJ Metal Mel, Indie Week's Darryl Hurs, producer Chris Perry and Nicole Hughes, and places like Cherry Cola's, Courage My Love are well on their way to realizing the dream. Barricade.
Next Week: I take a week off to celebrate an Anniversary, take care of neglected business, and write a radio special. There will be a column every day Monday through Friday, composed of your favourite columns from the DBAWIS Archives. Have a great week, and I'll be back November 1st…
That's enough for now. Email me at segarini@fyimusic.ca with your comments, complaints, and thoughts…and remember…don't believe a word I say.


Bob "The Iceman" Segarini was in the bands The Family Tree, Roxy, The Wackers, The Dudes, The Segarini Band, and Cats and Dogs, and nominated for a Juno for production in 1978. He also hosted "Late Great Movies" on CITY TV, was a producer of Much Music, and an on-air personality on CHUM FM, Q107, SIRIUS Sat/Rad's Iceberg 95, (now 85), and now provides content for radiothatdoesntsuck.com with RadioZombie, The Iceage, and PsychShack. Along with the love of his life, Jade (Pie) Dunlop, (who hosts and writes "I've Heard That Song Before" on RTDS), continues to write, make music, and record.